Are you looking for how to get a free iPad legally? Don't worry; you have reached the right place.
The iPad's rising popularity may be attributed to the device's user-friendliness, portability, and feature set. Many individuals may need help to afford these products because of their high prices.
If you're concerned about how to get a free iPad in the legal sense, this article's research should set your mind at rest. Read on to see how you can obtain a free iPad.
How to Get a Free iPad or iPad Pro?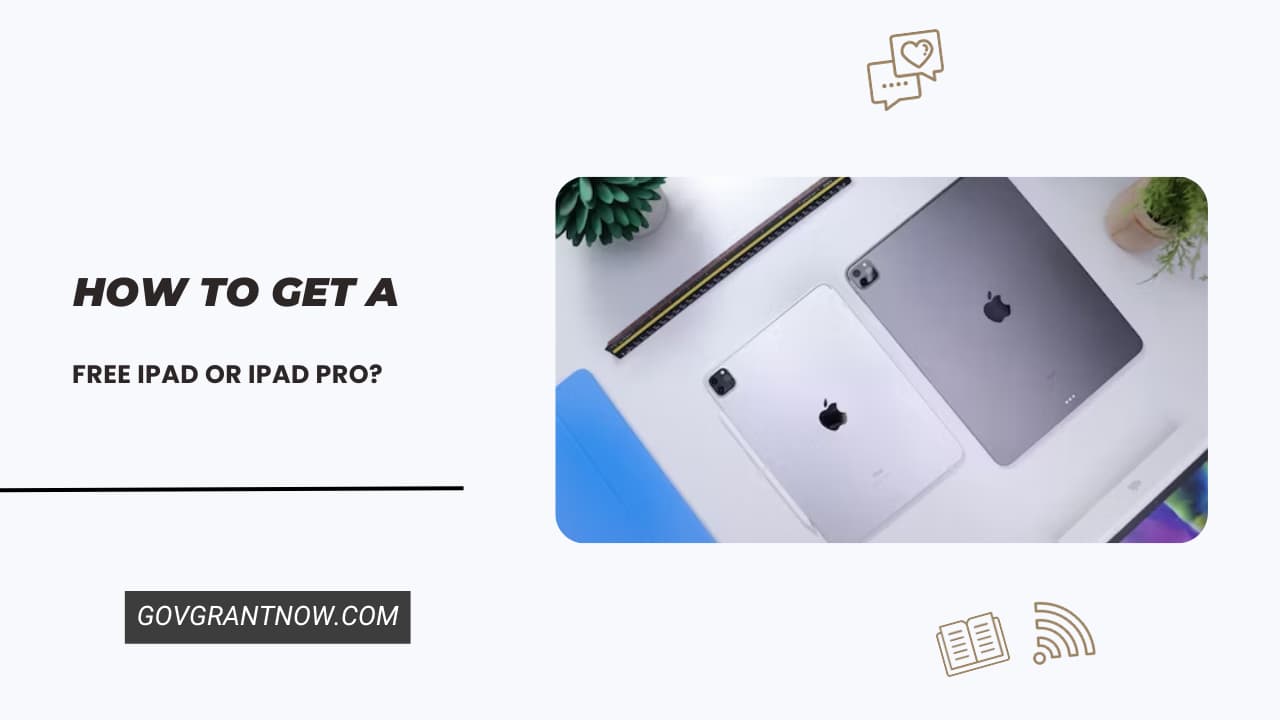 Nowadays technology has developed a lot, and the increasing demand for technology has also made the devices more expensive.
Low-income families cannot afford these devices. Fortunately, the government and some non-profit organizations and charities offer devices to help low-income families use new technologies.
These devices include iPads, tablets, smartphones, laptops, and mobile phones. The use of these devices is available for both children and seniors.
A low-income family can learn new skills and create new employment opportunities by using these devices.
Additionally, low-income families can get a free iPad with the help of government grants like Lifeline and the Affordable Connectivity Program (ACP).
There are many other such grants and charities that offer iPads for free. Read on to learn how to get a good quality branded iPad for free and legally.
1. Free iPad Through Lifeline and ACP:
Lifeline is a government program that covers some or all of the monthly phone bills for low-income families.
To qualify for the Lifeline program, a family's annual income must be below 135% or less of the federal poverty standard.
Recipients of SNAP, SSI, public housing, or other government benefits are automatically eligible for the Lifeline program.
If you are eligible for the Lifeline program, you can apply by visiting their official website lifelinesupport.org.
The Affordable Connectivity Program (ACP) provides low-income households with discounts on broadband service and connected devices.
ACP allows eligible families to purchase a computer or tablet with the assistance of up to $100. To qualify, one must be at or below 200% of the federal poverty guidelines.
Recipients of Lifeline benefits automatically qualify for ACP. You can avail of both Lifeline and ACP benefits at the same time.
Some company providers offer free iPads or tablets upon registration with Lifeline and ACP.
These providers include T-Mobile, SafeLink Wireless, StandUp Wireless, QLink Wireless, and Sky Mobile.
2. Grants for Free iPads:
Many government, nonprofit organizations, and charities offer grants to low-income families that they can use to get an iPad.
The main purpose of this grant is to enable low-income families to use technology. It is important to note that, to apply for a free iPad you must first fulfill their eligibility criteria.
Here are some organizations that can help children and students get a free iPad or tablet. You can get more information about free iPads by visiting their official website by searching on Google.
Grants and Organizations That Provide a Free iPad:
Modest Needs Grant
Conover Company
Danny's Wish
Daniela's Wish
Different Iz Good Foundation
Different Needz Foundation
The Puzzling Piece iPad Challenge
Special Kids Therapy
Zane's Foundation
United Healthcare Children's Foundation
Small Steps in Speech
Parker's Purpose
Paige's Princess Foundation
The Prayer Child Foundation
Gia Nicole Angel Foundation
Gracie Pridmore Foundation
SEAL Naval Special Warfare Family Foundation
iTaalk Foundation
Fund It Forward
The Lindsay Foundation
The UCP Elsie S. Bellows Fund
Little Bear Sees
Little Bear Gives
First Hand Foundation
NWA Apraxia Support
Friends of Disabled Adults and Children, Too!
Hanna's Helping Hands
Jake's Help From Heaven
Patient Advocate Foundation
3. Special Grant Programs That Available to Get Free iPads Only for Children:
Children who find it difficult to communicate and interact with others. They face constant challenges in everyday life.
Some special grant programs support the development of such children and provide free iPads to connect them with technology.
If your child has been diagnosed with autism, you can get a free iPad for your child through these grant programs. This grant program includes:
Let's Chat Autism
Andrew's Gift
Helping Hand Grant
MyGOAL Inc. Enrichment Grant
Joey's Fund Family Grant Program
HollyRod Foundation
Autism Care & Treatment
Generation Rescue Family Grant Program
Friends of Jacob Foundation
NAA Voice Foundation
Jasmynn's Voice
Lil Mac Kids Foundation
Talk About Curing Autism: Family Scholarship Program
4. Use an Insurance Company to Cover to Get an iPad:
As you know, the insurance company can provide insurance coverage on durable medical equipment, technical equipment, and other needs for all classes of people.
You may be surprised to know that insurance companies can often offer a free iPad. The iPad offered by insurance companies depends on the coverage you are going to get.
Second, you must have a valid reason to get a free iPad. If you are going to get an iPad for your child's education, the insurance company can definitely help you.
For free iPads, you can get more information by contacting your insurance company. You can also ask your insurance company manager about the cost of the insurance policy.
The insurance company may offer you a free iPad Pro or iPad Mini.
5. Get a Free iPad Through Local Charities or Churches:
Many local charities help those in need by offering everything from clothing to housing.
You will be happy to know that countless charities and NGOs like the Salvation Army, and Vincent de Paul Society provide free iPads to people in need.
Charities and NGOs are eager to help those in need, if you approach them and tell them about your situation they can surely help you.
If you are a working professional or a student, there is a high probability that you will get a tablet from them. Another great option to get a free iPad is a local church.
Churches receive donations from many people including items. These items also include items like iPads, laptops, tablets, etc.
Churches are willing to give these devices back to the community.
You can ask your nearest local church and explain to them your need for an iPad or tablet. churches can surely help you in getting a free iPad.
Related Post : How to Get EBB Program Free Laptop?

How to Get a Free iPad Online?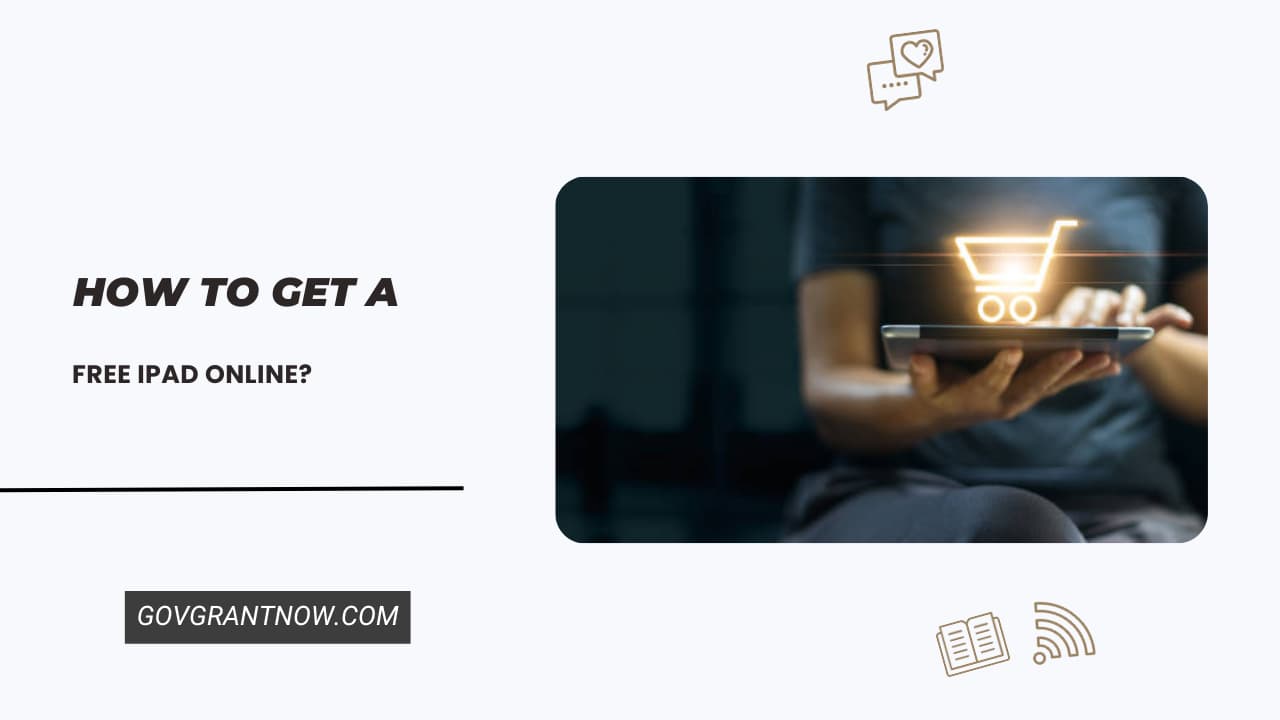 As we have seen above, how to get a free iPad legally? If your family income is low and getting an iPad for education is necessary for you then you can get a free iPad through this method.
But, if you don't meet the eligibility for low-income families yet are struggling for free iPads then you should read the article further.
There are many other ways to get a free iPad, which allows everyone to get a free iPad.
Many websites and social media sources offer free iPads through online contests or referral programs.
Yes, it is not guaranteed that you will get a free iPad, but you can definitely do this to get a free iPad.
Before going online, remember that you should visit the official website of the reputed company and read their terms and conditions.
1. Enter Online Sweepstakes and Contests
Many Social media, websites, and blogs provide competitions and rewards. Prizes like iPads are up for grabs in these contests.
If you participate, follow the guidelines and give as much as possible. Remember that your odds of winning an iPad increase the more competitions you enter.
2. Explore Referral and Affiliate Marketing Programs
When the question comes to how to get a free iPad, you can also earn commissions by referring new customers to many companies.
You could earn rewards such as store credit, cash, or points for referring friends, family, or strangers to these businesses.
Then you may purchase an iPad or gift cards using the facts, credits, or cash you've earned. Partner marketing involves promoting other's products and services for a commission.
3. Take Advantage of Product Testing Programs
Companies often get feedback from consumers by having them test out their wares.
A free iPad or iPad Pro might be yours if you participate in a product testing program in return for your frank feedback.
You may find these offers on discussion forums, social media, and websites devoted to product testing and review.
4. Utilize Cashback and Rewards Programs
Numerous cashback and rewards schemes provide credits in the form of money or points for making repeat purchases.
You may win an iPad or gift vouchers to apply towards the purchase of an iPad if you collect and redeem enough of these incentives before the game's conclusion.
Learn more about how to start earning points and rewards on your purchases by checking out popular programs like Rakuten, Swagbucks, and Honey.
5. Engage in Online Surveys and Market Research
Businesses often do market research and consumer surveys to understand their clientele better.
These actions might earn you cash, gift certificates, or other prizes that could be used to purchase an iPad.
Find polling sites and market research firms with a track record of compensating their participants before committing any time or effort to them.
6. Join Product Review Communities and Influencer Programs
Discussions about influencer marketing and product reviews may be found in various internet communities.
In exchange for participation and endorsement, these organizations and influencers may provide you with perks like an iPad.
A solid online presence, with intriguing and engaging material demonstrating your competence, may increase your chances of getting considered for such positions.
Related Post : How to Get a Free Laptop from Google?

How to Get a Free iPad as a Student?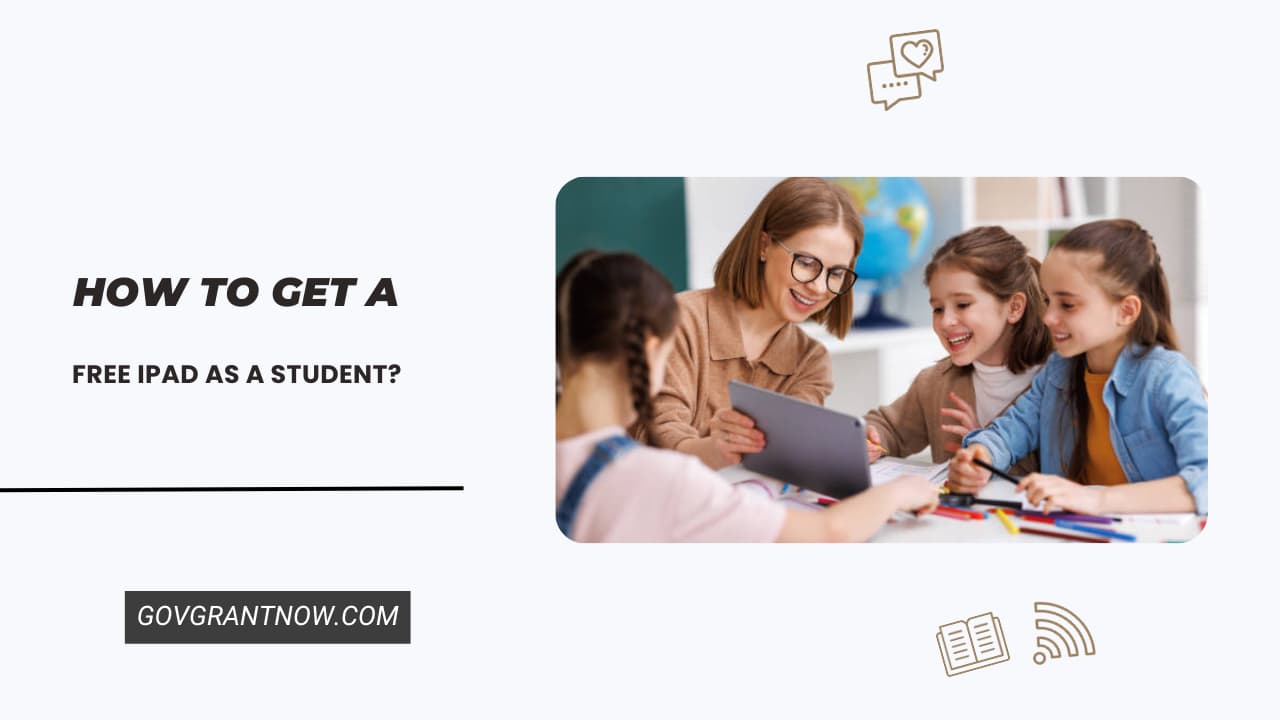 The iPad can be used as a tool for student learning, productivity, and study. But, the iPad's high price tag puts it out of reach for many students.
Here we'll discuss some of the best ways to get a free iPad for students for classroom projects.
Continue reading to learn how to receive an iPad for free as a student.
1. Research Student Grant Programs
Funding for higher education is available from various sources, including government and private agencies.
These funds can be used for multiple uses, including acquiring iPads and other technology devices.
Explore all possible grant options to offset the cost of software and hardware upgrades.
Contacting charitable organizations, local charities, government organizations, and educational institutions may provide students with further information about potential prizes for low-income students.
Find out what you need to do to qualify and submit a compelling application if you want to improve your chances of getting a free iPad for students.
2. Participate in Scholarship Programs
Scholarships assist with tuition and can provide funding for other necessities, such as the acquisition of necessary technical equipment. Grants provide students with academic resources.
Apply for scholarships that offer tuition assistance or valuable skills for your studies. Explore potential funding avenues with institutions that value providing students with access to technology.
Explain why you need an iPad scholarship and how it will benefit you academically.
3. Take Advantage of These Exclusive Deals for Students
When the question comes of how to get a free iPad for a student? Many corporations and technological organizations provide discounts and benefits to students.
Students, educators, and anyone in the field of education may all save money by taking advantage of Apple's school pricing plan.
Apple items are discounted as part of this offer. Check the Apple for Education website or ask the library or IT department whether your school provides Apple discounts.
If you're looking for a discounted iPad, there are plenty of different shops and websites to peruse that specialize in serving the requirements of students.
4. Engage with Campus Programs and Initiatives
Schools have recognized the need to equip their pupils with technological literacy and have developed a variety of curriculum options to meet this demand.
Learn more about the facilities and resources available on campus, such as the library, computer labs, and student services.
These companies may provide access to programs that allow students to rent or borrow iPads for use in the classroom.
iPads may be given away permanently or temporarily in various instances.
Contact the appropriate personnel at your institution to learn more about these initiatives and see whether you qualify to get an iPad for free.
How Can I Get A Discounted Or Free iPad?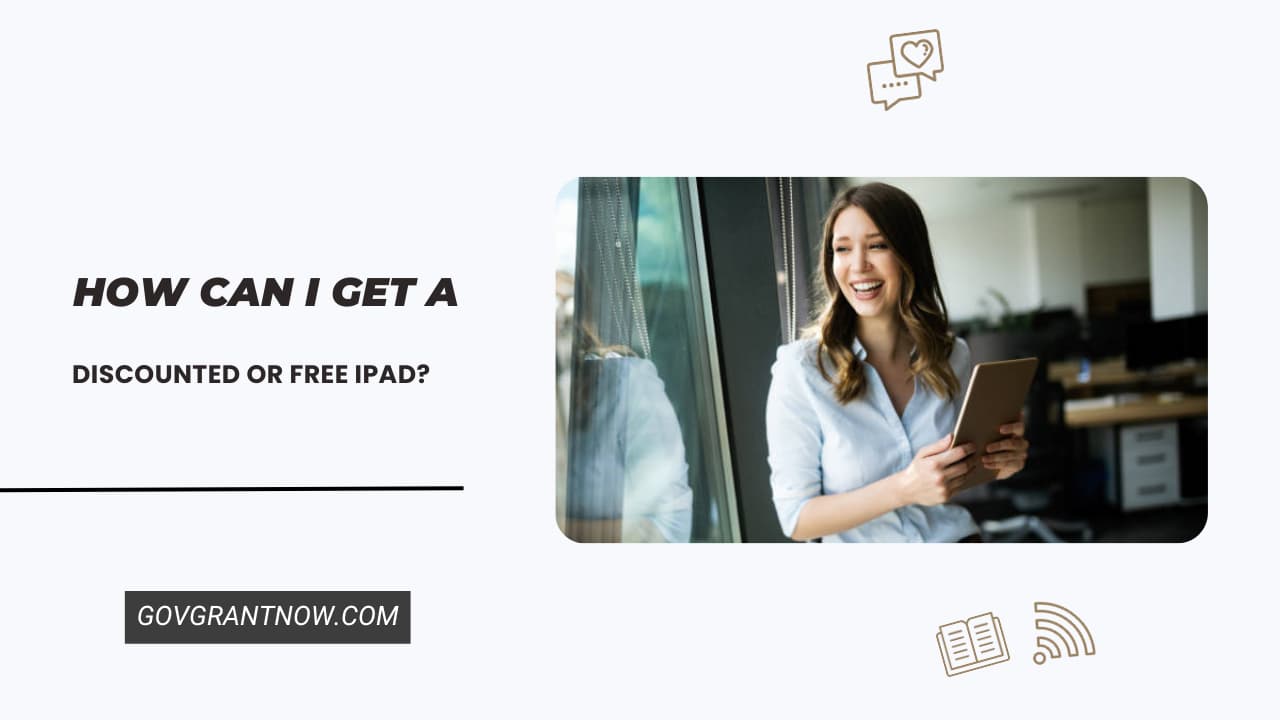 Due to the increasing demand for technology, iPad users increasing day by day. for that competition for sales is also increasing among different companies.
Thankfully, due to this competition, these companies offer discounts on selling iPads to attract customers. This discount can be 5%, 10%, or often even up to 15%.
Yes, it is fair to think that this discount is not much, but it can save a little on the cost of getting your iPad.
There is another way, in which you can get a new iPad by giving away your old iPad.
Along with this, you may not get a new iPad for absolutely free, but it can help you get a good discount on a new iPad.
Additionally, the latest iPad will also allow you to use good features and good technology.
Do Apple Employees Get a Free iPad?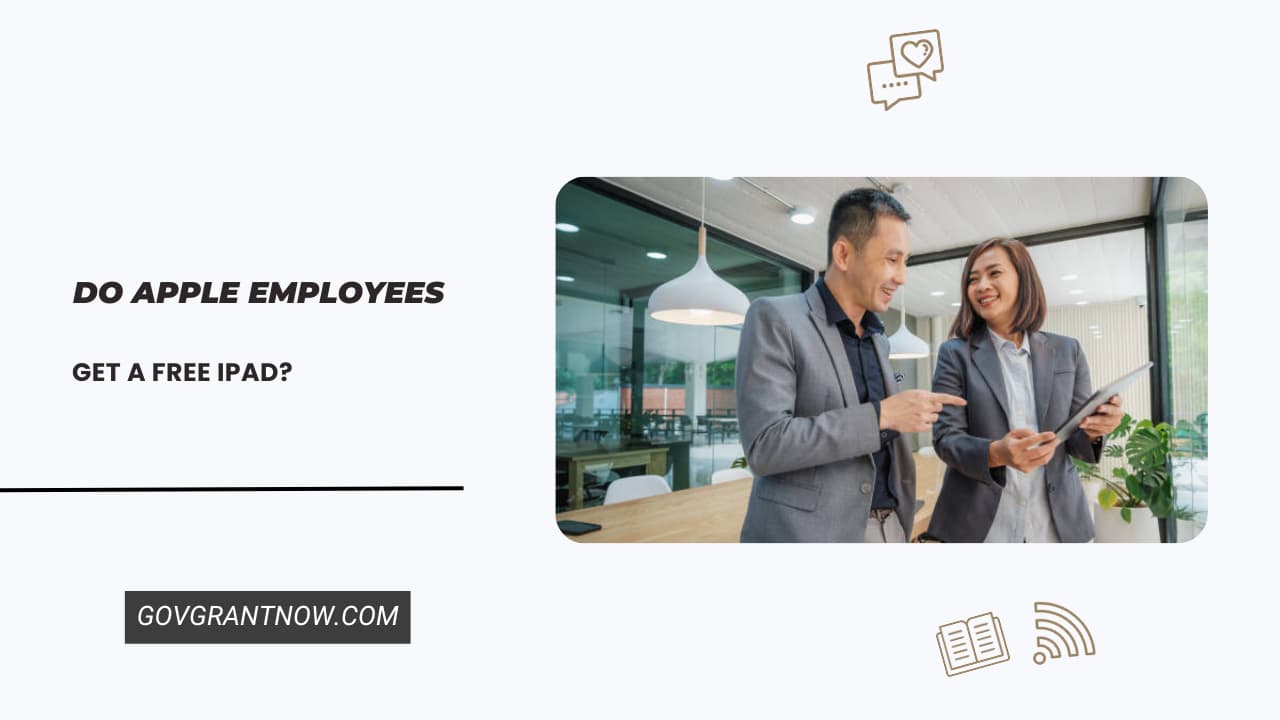 As everyone knows, the benefits that are given by the company provides to its employees are not like publicly available information.
The company provides benefits to the employees based on their position, the higher the position they become eligible for more benefits.
So if an employee gets a promotion then his benefits will also increase. Apple gives their employees a 25% discount on the purchase of an iPad, computer, or iPod.
If you are an Apple employee, you can also get a 25% annual discount on the purchase of iPads, computers, or iPods. Apple gives its employees a 25% annual discount on all purchases.
Additionally, also gives $250 off iPads and $500 off Macs. It is important to note that this discount is only available for three years and only Apple employees can avail of it.
Suggested Post :-
Conclusion:-
By following a few simple steps, you can get a free iPad legally. Governments, non-profit organizations, charities, NGOs, or local churches can provide you with a grant for a free iPad.
You can contact your insurance company to see if they can help to get you a free iPad. Additionally, you can get a free iPad by participating in online contests.
Be careful of online deals that sound too good to be true. Participating in online deals, using partner and link programs, completing surveys and testing items, using cashback and reward systems, and joining online communities related to the products can increase your chances of winning an iPad without spending any money.
If you can avoid it, why wait? By checking out all these possibilities, you can get one step closer to owning a brand-new iPad.
---
Frequently Asked Questions:
Is It Possible to Get a Free iPad Legally?
Yes, it is possible to get a free iPad legally by qualifying for the government-run Lifeline Program and the Affordable Connectivity Program. You can also get a free iPad legally by contacting nonprofit organizations, charities, NGOs, churches, and insurance companies.
How Can I Get a Real iPad for Free?
You simply participate in government-run programs to get a real iPad for free. You can contact a non-profit organization, charity, or local church to find out more options.
Does Lifeline Program Offer Free iPad Or Tablet?
To qualify for the Lifeline program, a family's annual income must be below 135% or less of the federal poverty level. A person receiving Lifeline benefits automatically becomes eligible for ACP. Some providers offer free iPads or tablets upon registration with Lifeline and ACP. These companies include Standup Wireless, QLink Wireless, and Sky Mobile.
What iPads And Tablets Are Provided Free by the Government?
You should know that the government does not directly give you iPads and tablets for free. The government has programs like Lifeline and ACP through which some companies provide free iPad and tablets to avail of their services.
This iPad includes iPad Mini, iPad Mini 2, and 4th generation iPad. while tablets include Samsung Galaxy Tab S7, LG G Pad 5- 4GB LTE Tab, Lenovo Tab 5, New Microsoft Surface Go 2, and Google Chromebook.
Can Seniors Get Free iPad?
Yes, many non-profit organizations and charities can provide free iPads to seniors. But to get free iPad from these organizations senior needs to qualify for their eligibility. You can contact your local non-profits, charities, or local churches to find out if you qualify for a free iPad as a senior.
Can Students Get a Free iPad?
Yes, students can get free iPads for education. Various sources offer technology devices through scholarship programs, student grant programs, and other programs to help students in their education. Reputed companies like Apple also provide special discounts and offers for students, so that students can learn more about technology.